Contact Me Today!
I love my fans! All the support and feedback I've received over the years has motivated me to do my very own site. I certainly could be doing all the things you see here behind closed doors. But presenting it here, for your viewing pleasure, makes it all the more satisfying.
If you have any wild ideas burning a hole in your dirty mind that you'd like to see on film, let me know. That goes for any questions you might have for me as well; send me a message below.
Models Wanted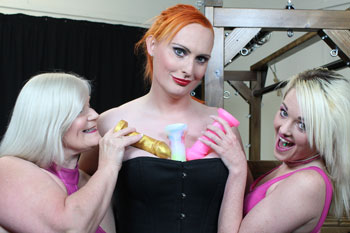 Lacey Starr is rising, and she'd like you along for the ride! Lacey Starr Productions is an award-winning, sex-positive, body-positive studio, and we are looking for a wide variety of talent. If you're sexy and love to flaunt it, we want to work with you!
Experience is a plus, but not a must. Certainly include your past work in your application. But if you'r new to the industry, be sure to tell us a bit about yourself, why you're drawn to porn, and what sorts of kinks or categories you'd like to shoot. And don't forget to give us a good look! Send us some pictures of you from different angles.
If we like what we see, we'll give you a call to see if we can work something out. So be sure to complete the form below. Your information will be held in the strictest confidence.